Family doctors are specialists in the health and well-being of people, families and communities. We care for all ages, genders, body parts and diseases.
At the University of Toronto Department of Family and Community Medicine (DFCM), our 1,900+ faculty of teachers and researchers train the next generation of family doctors and improve clinical care in Canada and abroad.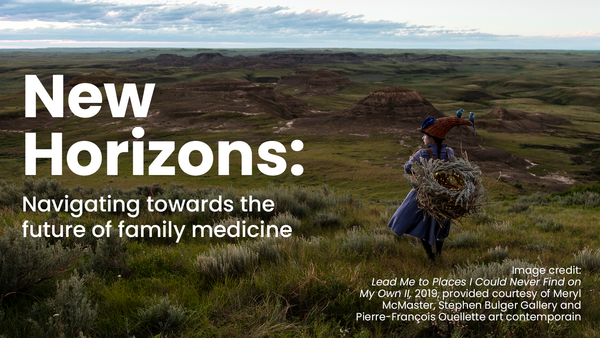 New Horizons Speaker Series
Join DFCM Chair Dr. Danielle Martin and wise interprofessional colleagues for a speaker series on the role of family physicians in a changing world and what a community-responsive department of family medicine should be aiming for.
Past session recordings available, including the Sept. 9 session with Medhat Mahdy, President & CEO, YMCA of Greater Toronto.
Save the date for the next session: Nov. 4, 2022, 8-9am ET, with Michelle DiEmanuele, Ontario Secretary of the Cabinet
COVID-19 Community of Practice
DFCM, in partnership with the College of Family Physicians of Canada (CFPC), hosts regular webinars with guest speakers and Q&A sessions — conversations about changing the way we work in response to the latest COVID-19 data.
Apply for the INTAPT course, starting Oct. 27, 2022
Interested in developing your clinical teaching skills? Applications are open for DFCM's INTAPT course: Interprofessional Applied Practical Teaching and Learning in the Health Professions, open to all practicing family doctors and clinicians. The deadline has been extended and applications are still open.
Read the latest message from Dr. Danielle Martin, U of T DFCM Chair, and join the upcoming DFCM Town Hall about the strategic plan launch on Nov. 3: September always brings a mixed bag of endings (sunshine, sandals, hopefully some downtime) and beginnings (back to school, rain boots, and opportunities for reflection in many faith traditions). On campus, the excitement is palpable this time of year and it is invigorating to see young people with their heavy knapsacks out on a mission.
A team led by researchers from the Department of Family and Community Medicine at the University of Toronto has authored a three-part brief on the strengths and challenges of primary care in the pandemic for the Ontario COVID-19 Science Advisory Table. 
Watch the video recording from DFCM's annual Award & Celebration Event, held on Sept. 20, 2022. Hosted by Drs. David White and Melanie Henry, the event celebrated DFCM Awards of Excellence, DFCM Program Awards and external awards. DFCM's 13 senior promotion recipients were featured in a video compilation. Recipients of four highlighted awards were also featured.