Family doctors are specialists in the health and wellbeing of people, families and communities. We care for all ages, genders, body parts and diseases.
At the University of Toronto Department of Family and Community Medicine (DFCM), our 1,900+ faculty of teachers and researchers train the next generation of family doctors and improve clinical care in Canada and abroad.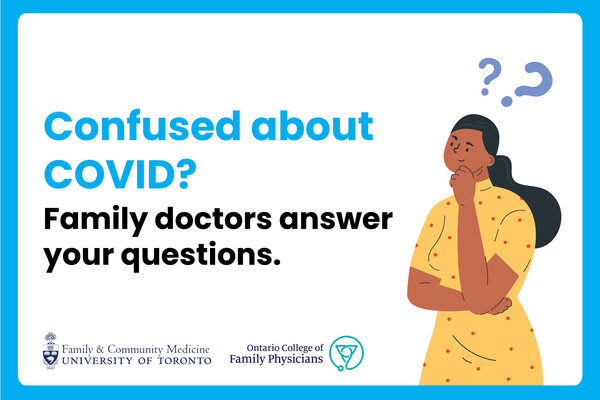 Family doctors from DFCM and the Ontario College of Family Physicians answer common questions about the changing COVID-19 situation including:
How do I know if I have COVID?

Do I need to self-isolate?

When should I call my doctor?
Residency Application Now Open!
Application deadline: January 31, 2022 at 12:00 p.m. EST
COVID-19 Community of Practice
Conversations about changing the way we work in response to the latest COVID-19 data.
As many struggle with information overload about the quickly changing COVID-19 landscape, a new digital tool launched by family doctors aims to help Ontarians cut through the confusion. Download new Q&As about COVID at ConfusedAboutCOVID.ca.
Dr. Andrew Pinto, an Associate Professor at DFCM and family physician and public health specialist at St. Michael's Hospital, Unity Health Toronto, has been awarded a prestigious $1.15 million Canadian Institutes of Health Research grant.
On May 6, 2022, the virtual DFCM Conference will focus on the theme 'Better together: Shaping the future of family medicine'. Got a story to tell or a project to share? Consider submitting this in the form of a workshop or poster by February 14, 2022.