Family doctors are specialists in the health and well-being of people, families and communities. We care for all ages, genders, body parts and diseases.
At the University of Toronto Department of Family and Community Medicine (DFCM), our 1,900+ faculty of teachers and researchers train the next generation of family doctors and improve clinical care in Canada and abroad.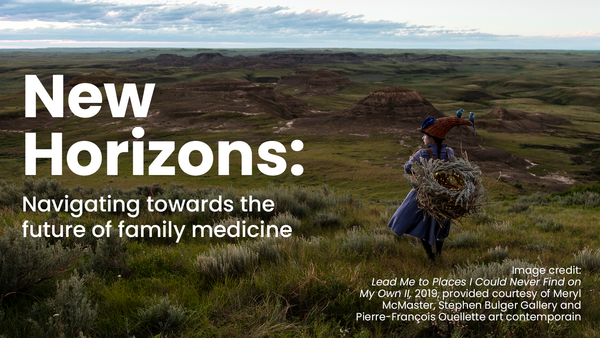 New Horizons Speaker Series
Join DFCM Chair Dr. Danielle Martin and wise interprofessional colleagues for a speaker series on the role of family physicians in a changing world and what a community-responsive department of family medicine should be aiming for.
COVID-19 Community of Practice
DFCM, in partnership with the College of Family Physicians of Canada (CFPC), hosts regular webinars with guest speakers and Q&A sessions — conversations about changing the way we work in response to the latest COVID-19 data.
Apply for the INTAPT course, starting Oct. 2022
Interested in developing your clinical teaching skills? Applications are open for DFCM's INTAPT course: Interprofessional Applied Practical Teaching and Learning in the Health Professions, open to all practicing family doctors and clinicians. Application deadline: Sept. 23, 2022
Poverty—it's easy to miss, especially when it's not something you're looking for. Although we have long known that those with lower income levels experience worse health outcomes, screening for poverty is not a routine part of health care. The result: One of the most significant factors affecting people's health is simply not recorded or addressed.
DFCM has appointed Dr. Peter Selby as the Vice-Chair, Research and holder of the Dr. Barnett and Beverley Giblon Professorship in Family Medicine Research. Dr. Selby is a Professor at DFCM and a clinician-scientist at Centre for Addiction and Mental Health (CAMH).
As always, we greet the end of the academic year with much to celebrate and much to be grateful for. We introduced our newly-launched Indigenous Leadership Circle, or ILC, in person at DFCM's first-ever FamilyMed Fest on June 21, National Indigenous Peoples Day. Please take 10 minutes to complete our DFCM survey as part of our strategic plan.