New Horizons Speaker Series
Navigating toward the future of family medicine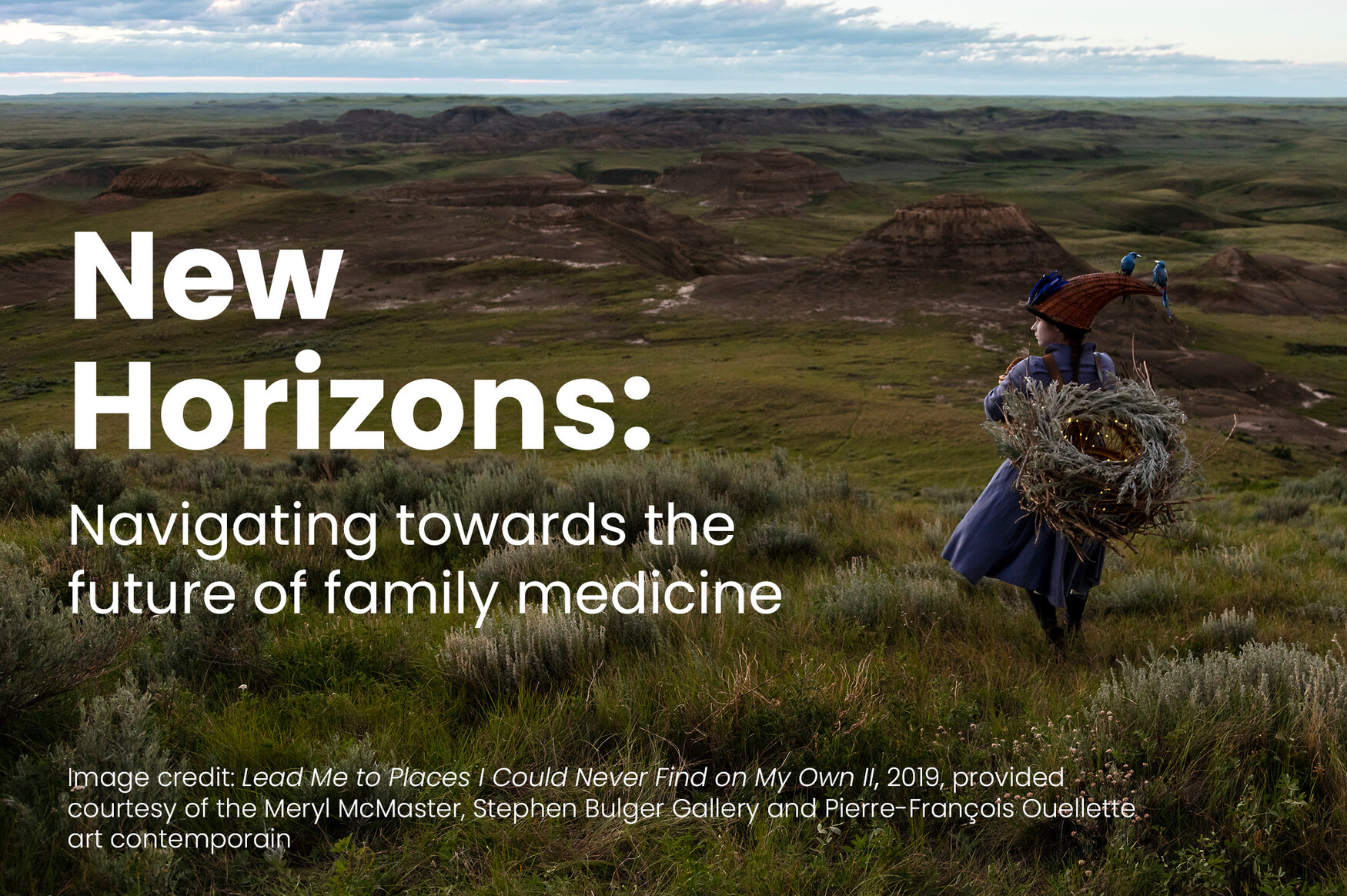 New Horizons is a speaker series hosted by Dr. Danielle Martin, Chair of the University of Toronto Department of Family and Community Medicine, the largest academic department of family medicine in the world.
As we look toward the future, DFCM has an opportunity to help shape the health system in Canada. Our department aspires to dream big about the potential of primary care, family medicine, and the role of the university in our society and our communities. This requires us to learn across disciplines and to take inspiration from the broadest possible range of fields – the arts, public health, community activism, the social sciences and more.
In each session, a wise interprofessional colleague will provide a fresh perspective on the role of family physicians in a changing world and challenge us to consider what a community responsive department of family medicine should be aiming for.
Recordings for our past sessions are available here.
Sign up to the DFCM newsletter to be notified when new sessions are announced.
Toronto Mayor, Olivia Chow, discusses the future of healthcare and how family doctors and other clinicians can work more closely with the City of Toronto to ensure safe, accessible care for all.
Professor M Murphy discusses learnings from Land/Body relations in Indigenous environmental justice.
Oscar-winning screenwriter and director Sarah Polley discusses how the arts can help family doctors bring creativity to our work and what we can learn from filmmaking about creating space for difficult conversations.
Dr. Ruth Heisey, Dr. Bjug Borgundvaag, and peer counsellors from the BETTER Women program discuss the valuable role of peer counsellors in extending and enhancing care.
Dr. Kwame McKenzie, CEO of Wellesley Institute, discusses how DFCM can better link our work in education, research, and quality improvement to the social determinants of health, and how we can partner with organizations that serve communities to be more socially accountable in our work.
Dr. William Cherniak and Dr. Tara Kiran discuss the role of technology-enabled care in the future of Ontario's health care system.
Minister Carolyn Bennett shares what inspired her to enter politics, the skills from family medicine that serve her well in her current work and the ways in which family doctors can engage successfully with policymakers.
Medhat Mahdy, President and CEO of the YMCA of Greater Toronto, discusses community engagement and shares a vision of access to health care centred on meeting people where they are – especially when it comes to prevention.
Frankie Abralind, co-founder and executive director of The Good Listening Project, discusses the importance of good listening and his experience of creating custom poetry through radical acts of listening.
Dr. Sandro Galea, physician, epidemiologist and Dean at Boston University School of Public Health, discusses the foundational forces shaping health in our society and what this could mean for primary care and family medicine.
About the artist
Meryl McMaster is a Canadian artist with nêhiyaw (Plains Cree), British and Dutch ancestry. Her work is predominantly photography based, incorporating the production of props, sculptural garments and performance forming a synergy that transports the viewer out of the ordinary and into a space of contemplation and introspection. She explores the self in relation to land, lineage, history, culture and the more-than-human world.
Lead Me to Places I Could Never Find on My Own II, 2019, is provided courtesy of the artist, Stephen Bulger Gallery and Pierre-François Ouellette art contemporain.
For more, visit: http://merylmcmaster.com