DFCM Resident is Moving Up the Ranks as New Chief Resident at Trillium Health Partners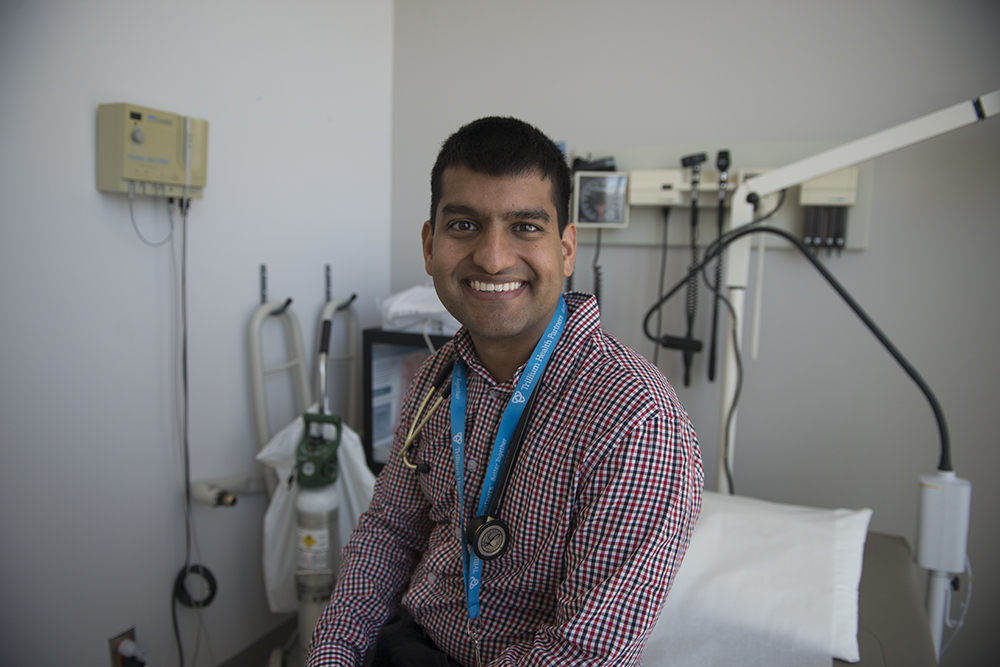 Ali Damji
Come July, Ali Damji, a resident at the Department of Family and Community Medicine will be the new Chief Resident at Trillium Health Partners.  
Although a big role, Damji is not new to responsibilities and leadership positions.
"Being involved with the medical politics was a large part of my medical school experience and it is very much something I want to continue at the DFCM," he said.  
In the past, Damji was part of the Head of Ontario Medical Students' Association, involved with the Ontario Medicine Association, the Canadian Medical Association and the Canadian Federation of Medical Students. Damji is also a representative of the Family Resident Association of Toronto (FRAT), an organizational council that serves as a link between administrative staff, program directors and residents.
Family medicine has been the perfect fit for Damji because of his passion for advocacy and working with vulnerable populations. While handling a patient through his rotation as a medical student, and witnessing the lack of systematic support to vulnerable communities, he was confident that family medicine was the right path for him.
"This had a large impact on me as a medical student interested in health care systems and advocacy, and seeing this play out in front of me, I saw it as an opportunity to make a huge difference in the medical community."
And, since then, he is making his mark. During his time at FRAT, he contributed to several initiatives that would help residents further their careers, one of which will see the light in the coming year.
"One of the strategies FRAT put forward is having core days early in July dedicated to introducing the residents to the DFCM but also to players involved in our education who we don't usually have the chance to meet."
As the new Chief Resident, Damji wants to ensure that residents are well aware of developments at the College of Family Physicians of Canada (CFPC) as well as the Professional Association of Residents of Ontario (PARO). As someone who had gained insights into these organizations, he hopes to serve residents in a meaningful way.
"I will represent the residents and relay any of their concerns to the program leadership. I will also represent them to the family health team that we are based at by attending curriculum meetings, meetings related to the operations and making sure that the residents' perspectives are present."
In the future, Damji sees himself practising comprehensive family medicine in different settings while getting exposure to different kinds of environments. He also sees himself becoming a vocal health advocate like his mentors Drs. Darren Larson, Joshua Tepper, and Danielle Martin. As a student completing the Master of Sciences in System Leadership and Innovation at the Institute of Health Policy Management and Evaluation, they motivate him by demonstrating how much good one can do as a family physician.
"To be an effective clinician and to act on issues surrounding vulnerable populations, one is required to be aware of the broader system and the inequities that exist in the medical community."
Related Items