National Magazine Awards recognize family doctors sharing how personal histories shape professional caregiving
About DFCM, Faculty, Faculty Development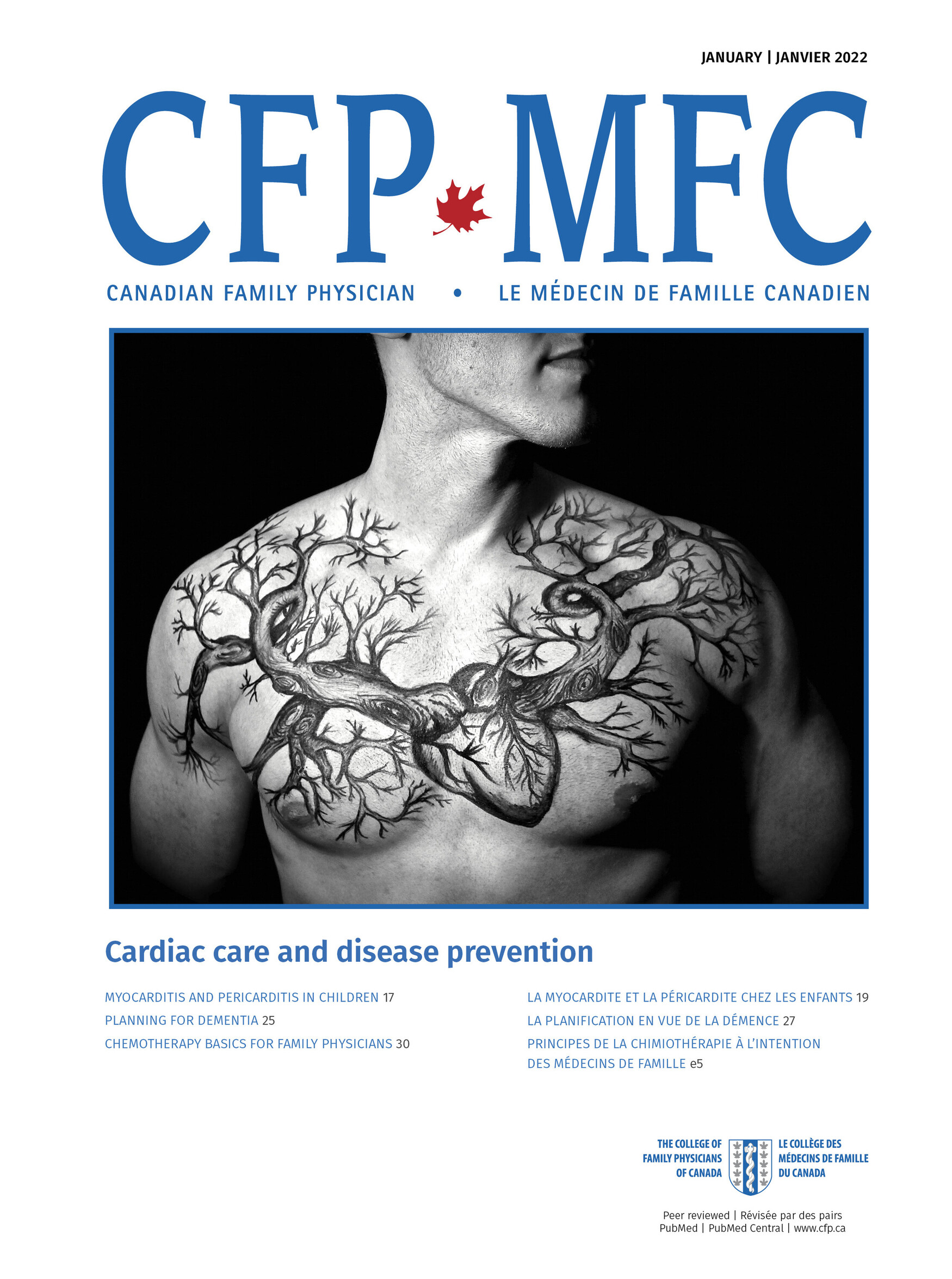 Dr. Agata Dzwonek/Ottawa, Ont.
Family doctors have been nominated for not one, but four National Magazine Awards in the Business-to-Business category, including Best Column, Best B2B Podcast, and two nominations for Best Editorial. The often deeply personal work is all published in Canadian Family Physician (CFP).
"Our hope is that we not only support the continuing education of family physicians and improve patient care but also humanize family doctors for a broader readership and give people a greater understanding of what the work of family physicians involves," says Dr. Nicholas Pimlott, an academic family physician within the Department of Family and Community Medicine (DFCM) and CFP scientific editor.
Dr. Pimlott, who also practices at Women's College Hospital, is nominated for Best Editorial for his article Continuity in the age of virtual care.
"The idea behind the editorial was to get people to think more carefully about what's good about virtual care and why it's really important to address the problem areas, and for me, there's a few," says Dr. Pimlott who highlights the importance of teaching the value of continuity of care and preserving it in family medicine practice, difficult though this may be.
Dr. Sarah Fraser, a family doctor based in Nova Scotia is also nominated for her editorial Concussion: understanding the invisible injury.
"I got to write from a place of personal experience, that was an interesting way to write about a medical issue," says Dr. Fraser, who is also CFP's associate scientific editor. In her piece, she draws parallels between treating concussions and experiencing them - "intangible, obscure and woolly."
Also nominated is the Art of Family Medicine (or Third Rail) column, which highlights how art and the humanities can inform family medicine, often covering issues that are not necessarily typical. "They may be outside of the box and a little provocative," explains Dr. Fraser.
The nominations highlight three deeply personal and thought-provoking essays, where family doctors reflect on the care they provide through a lens of personal experience. These experiences – from weight bias and grief, to parenting children with disabilities – are often deeply uncomfortable or challenge established norms within the medical system.
In one column Dr. Stephanie Hart, a family physician in Okotoks, Alberta, brings to light weight stigma in the medical field and how it creates systemic harm amongst patients, where bias can rob patients of appropriate and compassionate care.
"A few weeks ago, an obese patient needed a breast magnetic resonance imaging scan. It started with a too-small gown and no access to anything larger, […] and ended with an entire waiting room exposed to an unsolicited strip show – and the patient was humiliated. That patient was me."
Meanwhile, family physician Dr. Sheri Klassen from Edmonton, Alberta discusses how her perception of 'normal' or 'expected' has changed as a parent of children who live with disabilities, and how this has helped her adopt a multifaceted understanding of disability.
"When I stop fighting [the cause of disability], I can focus on what is rather than what should be; I can see strengths and uniqueness. […] It has been a long road to shift from a fix-it to a fight-it to an embrace-it approach. But moving beyond the binary of normal-abnormal toward ambiguity and acceptance creates more inclusive and just interactions with difference, offering pathways to better care."
Finally, Dr. Chris Frank, a family physician at Queen's University in Kingston, Ontario, writes about his personal experience of physician's grief after the loss of his wife and, two years later, the loss of his parents within six months of each other.
"As physicians, we sometimes view ourselves, and are viewed by others, as being impervious to loss. I do not believe this is true. Our interactions with patients and families give us insights but can never fully prepare us for grief."
Dr. Frank, who has focused practice in geriatrics and palliative care and teaches a class about grief for first-year medical students at Queen's University, was surprised by how many people have reached out to tell him, "We feel the same way".
"People sort of assume that physicians will experience grief differently. It [the article] was written for physicians, but I think it holds true particularly for many people in health care because they 'deal with it all the time' and sometimes assume they'll be able to better deal with grief when it happens to them."
It is these stories of vulnerability and strength that Dr. Pimlott hopes will humanize family doctors for a broader readership and give people a greater understanding of what the work of family physicians involves.
Dr. Pimlott and Dr. Sarah Fraser are also nominated in the Best Podcast category, for the CFP Podcast, in which the hosts cover research published in the journal (Dr. Pimlott) and topics from the Third Rail column (Dr. Fraser)
The National Magazine Award: B2B will have its ceremony on June 2, 2023.  
If you are a family doctor or family medicine resident with an idea for a thoughtful or thought-provoking essay for CFP, please contact: np@cfp.ca for inquiries. Have a manuscript ready? Drafts can be submitted on the CFP website.