The Practice of Advocacy: Dr. Jean Marmoreo Named a Member of the Order of Canada
DFCM and U of T alumna journeys through her nationally-recognized career in women's health and patient advocacy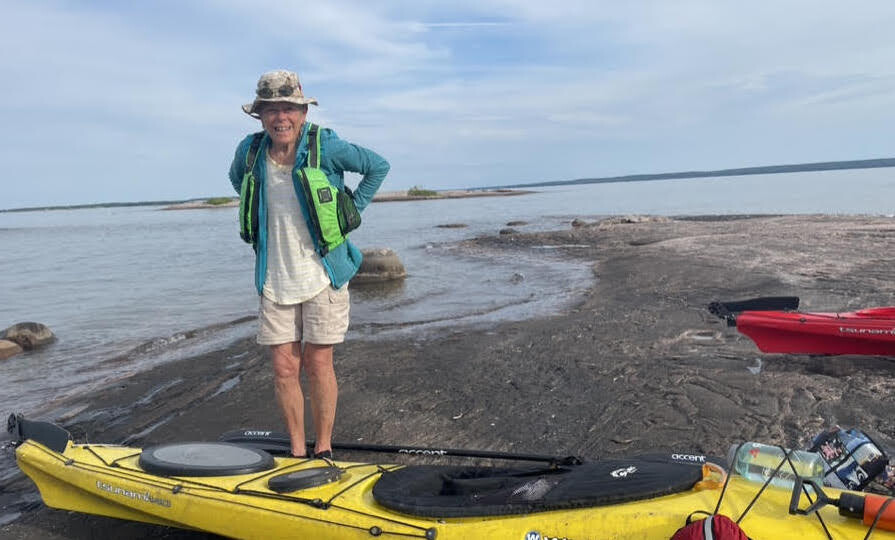 "When I started practising, I thought I would practise medicine. It took me years to realize that the practice of medicine was really the practice of advocating for your patients."
Dr. Jean Marmoreo (MD '74) wears many hats—family physician, advocate, author, columnist, mother, grandmother, athlete—but this past summer, she also became a Member of the Order of Canada.
"You could've picked me up off the floor," she says of the moment she received the call from the Governor General's Office. "I just kept saying 'I can't believe this has happened.'"
It was her work as a family doctor specializing in women's midlife healthcare and her advocacy for and contributions to Canada's medical assistance in dying (MAID) program that secured her the honour—two areas she is extremely passionate about. However, family medicine wasn't her initial plan.
Dr. Jean (as she prefers to be called) started out as head nurse at the Clarke Institute of Psychiatry—now the Centre for Addiction and Mental Health—in the community psychiatric unit. She was responsible for hiring nurses to cover daily shifts, and they all essentially learned on the job doing inpatient service, but more broadly, extending service into community and youth outreach, family counselling, and psychotherapy. It was a dream job, but it was also a five-year pilot project that wasn't going to last forever.
"I faced the prospect of returning to what I considered 'normal nursing' or venturing out," she says. "I thought, 'I cannot ever find myself in this position of not having control of my destiny again.' It was very clear to me that the only avenue was to become a physician."
She turned to the University of Toronto for her pivot to medicine and met her future practice partner, the Honourable Carolyn Bennett, M.D., with whom she founded Bedford Family Practice. As a family doctor specializing in obstetrics and Department of Family and Community Medicine (DFCM) faculty member, Dr. Jean split her time between her office practice, Women's College Hospital where she supervised residents until 2016, and Sunnybrook Health Sciences Center when obstetrical care moved there.
"I would count myself as a reasonable lecturer, but much more, I was a role model for students, guiding on the scene and in the trench for sure," she says. "I wanted them with me every step of the way. You had to prepare lectures, but it was the 'on the floor' part that I really wanted. To have them with me assessing and looking after these women. That was my best and truest forte I think, in terms of being a teacher."
While practising, Dr. Jean had a front seat in witnessing the neglect many middle-aged women face in healthcare. This led to her first book, The New Middle Ages: Women in Midlife, which was published in 2002 and identified the specific issues that women had been left to figure out on their own with no time to do so.
"It was about the reality of juggling 18 balls all the time and thinking that you're not going to let anything fall," she says. "And of course, things fall. It's either your parents, your kids, your job, or your marriage. There was never any room for, 'Where am I in this?'"
When she began writing, her focus was menopause and how women simply have no time for it. But the project grew to include breast cancer, Alzheimer's, osteoporosis, and more conditions that women must add to their already overloaded plates. Looking at these areas years later, she says, it's evident that not much has changed.
Today, however, Dr. Jean is seeing initiatives that recognize and address the workplace's loss of productivity and retention in working women in their perimenopausal years. When there is insufficient support in management, women take long leaves or leave their jobs altogether and it's their primary care physicians who must become their main advocates.
"All of these issues are still very much in play," she says. "It's this type of care, responsibility, and advocacy that we must be prepared to shoulder for our patients."
Advocacy has always been a central component in Dr. Jean's career, so when MAID became legal in Canada back in 2016, she knew she wanted to be able to help her patients understand what it could mean for them.
For many family physicians, she says, it's not uncommon to watch patients withdraw when they receive a critical end-of-life diagnosis. They lean toward specialty care. But helping patients live as well as possible through serious illness is an important part of family medicine generalism—not just for specialized palliative care teams. So, knowing she was going to be working with patients at this stage in their lives, Dr. Jean dove deep into palliative care.
After passing the law, the Supreme Court of Canada gave the federal government a period of one year to enact the legislation. Dr. Jean spent that time first at Sunnybrook Health Sciences Centre with DFCM Chair in End-of-Life Care and MAID, Dr. Jeff Myers, familiarizing herself with pain and symptom management. She then found herself at a regional hospital in Markham observing community programs, then the Temmy Latner Centre for Palliative Care at Mount Sinai Hospital, and, finally, at McNally House Hospice in Grimsby with Dr. Denise Marshall, family medicine professor with McMaster University's Department of Family Medicine and an executive member of their Division of Palliative Care. When the time came, Dr. Jean became a practising advocate not just for a patient's right to receive patient-centred care, but for their right to die—after years of not being able to provide that.
"In the past, when somebody was very far down the road of end-of-life, you would sit with them and basically crank up their medication for pain and wait," she says. "It's a terrible way to live the end of your life. Terrible. Now, we are able to have important conversations early and plan for every eventuality, so patients can have their wishes acknowledged and honoured."
In addition to her work in the Greater Toronto Area with middle-aged women and patients at the end of their lives, Dr. Jean has also been travelling to the Northwest Territories for the past year to provide primary care in small Indigenous communities like Norman Wells, which has been critical amid wildfire evacuations. It's been a challenge, but a rewarding one she urges others to take on.
"To be able to walk into an office and sit with somebody and listen to them, that is such a privilege," she says. "For family practitioners who really know that they could make a contribution doing primary care, it's going to be really critically needed in the next few years for sure."
Dr. Jean's career has spanned decades, regions, and specialties. But the one thing that has never faltered is her dedication to her patients, for which she is now recognized as a Member of the Order of Canada.
"The foundation of a family doctor's work is to be an advocate for their patients," she says. "It took me a long time to appreciate this single vital role. We have made good progress in helping with patient navigation in the big city clinics, but more is required in the communities where resources can be more limited."
"Whether the direction is with public health, in long-term care for our elders, youth at risk with access to street drugs, or special needs children lacking sufficient school resources, family doctors are at the forefront of the push to acquire these services for our patients."