In stadiums and living rooms, family doctors are leading the vaccine effort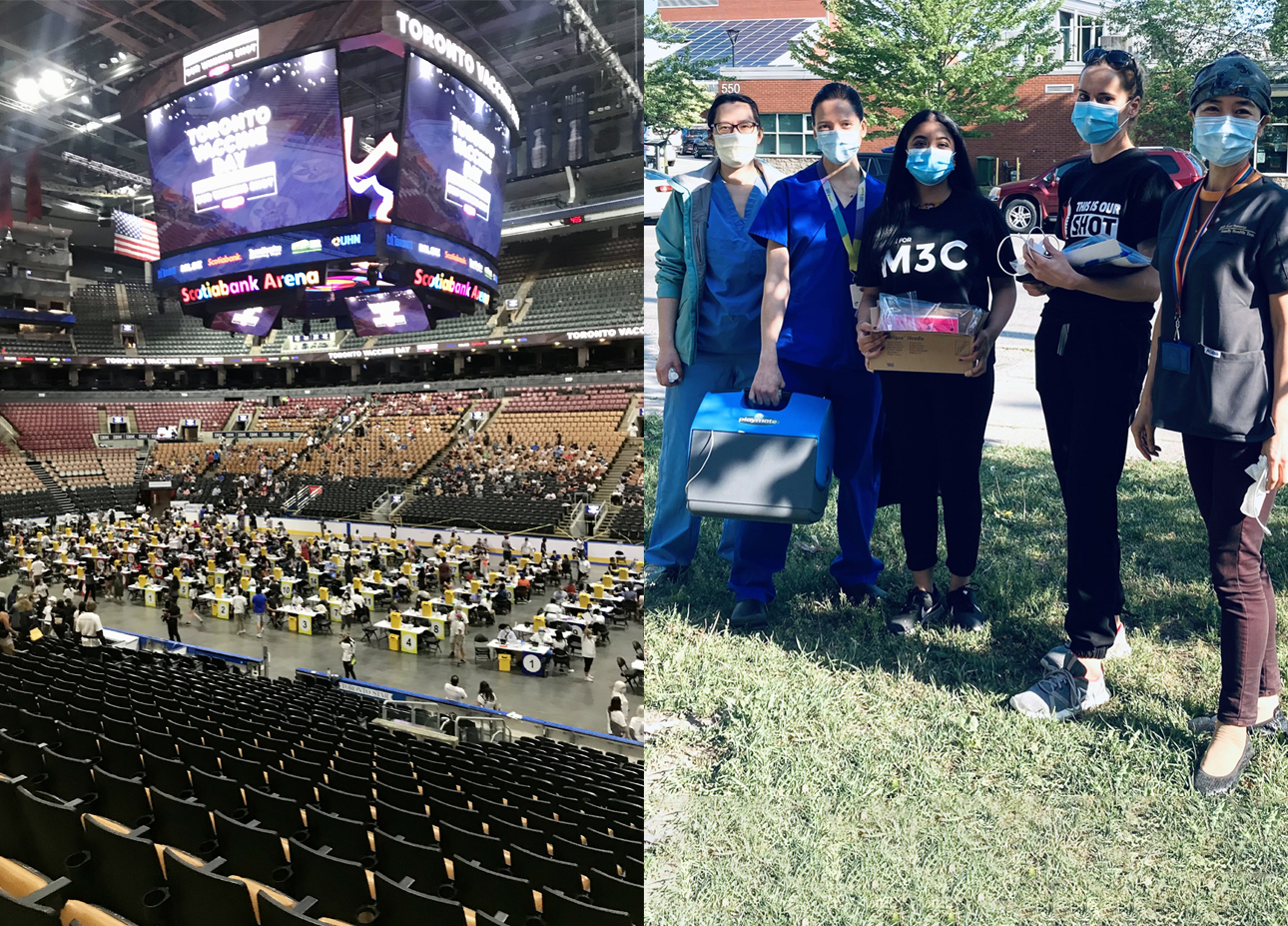 Family doctors leading the vaccination effort at mass clinics including Toronto Vaccine Day (left) and in the community, vaccinating homebound patients (right). As we emerge from the pandemic's third wave, family doctors continue to lead the extraordinary vaccination effort at mass vaccination sites, pop ups, clinics and in communities. It is thanks to this collective effort, from across primary care, that Ontario is leading the pack on vaccination across Canada and internationally.
On June 27, over 800 vaccinators and volunteers delivered a record-breaking 26,771 COVID-19 vaccine doses at Scotiabank Arena.
Hosted by University Health Network (UHN) and Toronto East Health Network, alongside Maple Leaf Sports & Entertainment (MLSE) and the City of Toronto, Toronto Vaccine Day was staffed from clinicians across the city.
DFCM's Dr. Camille Lemieux, who is Chief of Family Medicine at UHN, was one of the clinical leads.
"We started talking about the idea on June 21, just six days before the event. The organization was miraculous, MLSE pulled out all the stops and we had volunteers from all corners of the city – from hospitals and community sites."
With 25,000 doses pre-booked, and room for walk-ins, the event attracted a younger demographic with the vast majority receiving their second dose.
On the day, the atmosphere was electric.
"The energy was incredible. We had 180 vaccinators on the floor at any one time, family doctors sitting next to nurses, sitting next to rheumatologists and thoracic surgeons. Any barriers between specialisms melted away, we were all there as clinicians to help the vaccine effort. Throughout the pandemic, experiences like these have changed and strengthened inter-speciality relationships, and certainly built an understanding and respect for the power of family medicine."
While mass vaccination clinics reach large numbers in a short space of time, other populations need more targeted approaches.
In east Toronto, as well as staffing mass vaccination clinics, family physicians have been advocating for family doctor-led outreach for elderly and frail patients in clinics and at home. As part of this, family doctors, nurse practitioners and physician assistants have been going door-to-door, vaccinating homebound residents who also tend to be at high risk from COVID-19.
"For these patients we mapped detailed street routes so we could take the maximum allotted doses of the Moderna vaccine on the road and complete as many vaccinations as possible within six hours - the time limit for that vaccine to be mobile," says DFCM's Dr. Thuy-Nga (Tia) Pham, founding director of the East Toronto Family Practice Network and lead physician of the academic South East Toronto Family Health Team.

"These patients aren't able to get out to get a vaccine, and many struggle with booking through the usual online channels. As their family doctors, we know who they are and where they are. With this approach, we've been able to vaccinate over 400 individuals in their own homes twice over and include caregivers in that as well."
In North York, family physicians have been running mobile clinics with the 'Vaccinator' bus and physicians on bicycles. This approach has allowed family doctor teams to go anywhere, whether that is a parking lot or sports field, and set up a vaccine clinic in under 15 minutes. Meanwhile the team, led by Dr. David Eisen, Chief of Family and Community Medicine at North York General Hospital, has been running community webinars to connect with people, answer questions, address specific concerns and build confidence in the vaccine.
While efforts like these are driving up vaccination numbers, family doctors aren't done yet. Building vaccine confidence in communities that are isolated, hesitant or both, is an ongoing challenge.
"For the last mile, vaccines will travel at the speed of trust," says Dr. Danyaal Raza, a family physician at St. Michael's Hospital and Assistant Professor at DFCM. "This is especially true for communities with precarious status in Canada that we otherwise systemically exclude from health services. That's why as part of our vaccine efforts, we're calling on the federal government to extend full immigration status for all to ensure access to health and social services beyond the COVID vaccine."
Dr. Raza, Dr. Vanessa Redditt - a lecturer at DFCM and family doctor at the Crossroads Clinic, Women's College Hospital - and a team of multilingual colleagues, have been running vaccine clinics for migrant workers and others without OHIP in collaboration with Workers Action Centre and Migrant Workers Alliance for Change.
Run with support from Parkdale Queen West Community Health Centre, Women's College Hospital and University of Toronto's St George vaccine clinic, these clinics are seeing many individuals coming in for their first doses.
"This reflects systemic barriers to health care, including vaccine access, and deeply entrenched social and health disparities," explains Dr. Redditt, the team's medical lead. "We need to transform the way we provide health care, partnering with communities and dismantling barriers to create safe and equitable access to care."
Community-based efforts such as Tkaronto Indigenous Vaccine Access are doing just that. The website and 'Call Auntie' telephone line, spearheaded by Dr. Suzanne Shoush, DFCM's Indigenous Health Faculty Lead, with Indigenous Exemption Midwife Cheryllee Bourgeois, are helping First Nations, Inuit and Métis peoples find and book vaccination appointments.
DFCM family doctors are also continuing to lead efforts to vaccinate the Black community.
"We know that vaccine hesitancy is still an issue in Black communities, a sentiment that stems from historical and contemporary experiences of racism in healthcare. This translates into lower vaccination rates in areas with a high proportion of Black residents," says Dr. David Esho, a family physician with the Toronto Western Family Health Team and Assistant Professor in DFCM.
Dr. Esho is leading mobile and pop-up vaccine clinics in Toronto as part of the Black Physicians' Association of Ontario's Black Health Vaccine Initiative. These rely heavily on the knowledge and grassroots credibility of community partners.
"Thanks to the work of community organizations we are seeing progress in some areas, but this is a marathon, not a sprint – we are building trust and understanding, and that takes time."
"At a recent clinic, held at the Jamaican Canadian Association, I spent time chatting with an older gentleman. He wasn't ready to get vaccinated but came to talk to someone and ask questions. Having made that connection, hopefully he will feel comfortable coming back to get vaccinated at our next pop-up."
For those that are eagerly awaiting their vaccines, initiatives like the COVID-19 Vaccine Access Hub are helping people find and book appointments. Led by Milly Freire-Archer, a Master of Public Health student completing a summer practicum at Crossroads Clinic, under the supervision of Dr. Vanessa Redditt, the site includes pop-up clinic maps, tips and links on how to book appointments (with and without OHIP), and vaccine informational materials in over 15 languages.
"Given the complexity of finding and booking COVID vaccine appointments, we created this website to support patients, community members, and health care providers in accessing vaccines, with particular attention to the needs of individuals without OHIP," says Dr. Redditt.
"It's powered by the generous and skilled support of amazing students and volunteers. We hope the site helps improve access to COVID vaccines, especially for those who face barriers to care."
With these varied and collaborative vaccination efforts, family physicians are helping protect as much of the population as possible, enabling a summer of greater proximity to family, friends and loved ones, and supporting a return to normality.