U of T Family Medicine Resident Wins Prestigious Young Leader Award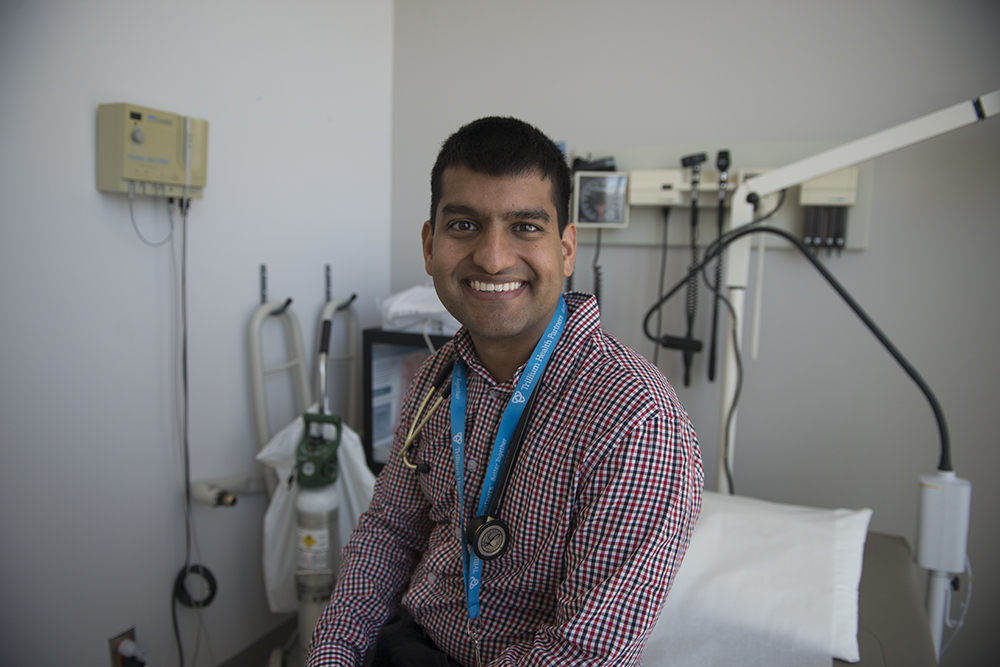 Ali Damji
Dr. Ali Damji, a second-year resident at the University of Toronto Department of Family and Community Medicine (DFCM), has won the Canadian Medical Association's Award for Young Leaders (Resident) for demonstrating exemplary dedication, commitment and leadership in one of the following areas: political, clinical, educational, or research and community service.
During his residency, Dr. Damji was voted chief resident by his colleagues at Credit Valley Hospital in Mississauga, was chair of the Ontario Medical Students Association during a time of change (reduction in residency spots) and is currently a board member at Resident Doctors of Canada where he advocates on issues that affect physicians. All while completing his Masters in System Leadership and Innovation at the University of Toronto.
We spoke to Dr. Damji on his residency journey at DFCM and his plans for what's next after he graduates in June.
How would you describe your residency experience and are there any key moments that stick out to you?
It's been a really amazing journey, although my transition from residency into practice was only a quick two years. I still remember the first patient I ever cared for during my residency – it was the first time I ever called myself "Dr. Damji" and the first time a patient ever called me by that name as well. I have followed this patient over the past two years, and have seen them struggle with their mental health and face challenges with their career and financial situation. However, I have also seen their journey in overcoming and addressing these problems in these two years. They recently became an artist and invited me to their art show. Watching them follow their dreams and know I played a small role in that was truly inspiring.
Who were your influential figures or mentors? How have they shaped your career?
Dr. Melissa Graham, the family medicine site director at Credit Valley Hospital, was a strong advocate for me to finish my Master's degree. I was doing my Master's degree during my residency, and Melissa really advocated for me to finish it and meet my deadlines which I'm very grateful for as having a Masters degree has opened many doors for me. Dr. Mira Backo-Shannon, the former Chief at Credit Valley Hospital, has also supported my leadership journey.
Dr. Danielle Martin has also been an influential figure and has also recently won a CMA award. It's great to see my mentors being honoured and recognized for the work that they do at the same time.
Drs. Joshua Tepper and Darren Larsen have also been close mentors to me throughout my residency. I'm also grateful for Dr. Michael Kidd, Dr. Stu Murdoch and the leaders at DFCM who have supported me and have opened doors for me.
What are your goals as a doctor and how do you think this award fits into achieving those goals?
I'm passionate about providing front-line medical care and working with patients. The ability to develop long-term relationships with your patients is one of the most amazing things about family medicine. I'm also interested in looking upstream at the system and policy level to help people live healthier lives. There's a stark health inequity in vulnerable populations, and there's a lot that can be done at the policy level to improve that.
I think that residency prepared me for working at both clinical and policy levels and I think continuing to work in both areas will truly help me both be a better doctor while better informing policy.
Do you have any advice for new residents on taking up more leadership roles during their residency?
Just throw yourself in and try different opportunities. Even though some opportunities might not seem to be a big deal, they can open more doors for you in the future. If you make yourself available, then opportunities will also find you, and it can snowball into something greater. There are so many ways to get involved at U of T and so many mentors who are available to help you and make connections. It's a testament to the program.
What are your next steps?
I'm going to be working with an interdisciplinary team in Mississauga. I'm also helping to design and implement a new patient-centred clinical home in Mississauga and I'm going to be continuing my work there.
I'm very grateful to U of T and DFCM. It's where I discovered and fell into family medicine, and now I can't imagine myself doing anything else. I'm also very grateful for the support of my colleagues, teachers, and staff at Credit Valley Family Health Team and at the hospital. I wouldn't have gotten where I am today without their unconditional support and commitment to my learning and growth.