DFCM appoints new Faculty Co-Leads in Climate Change and Health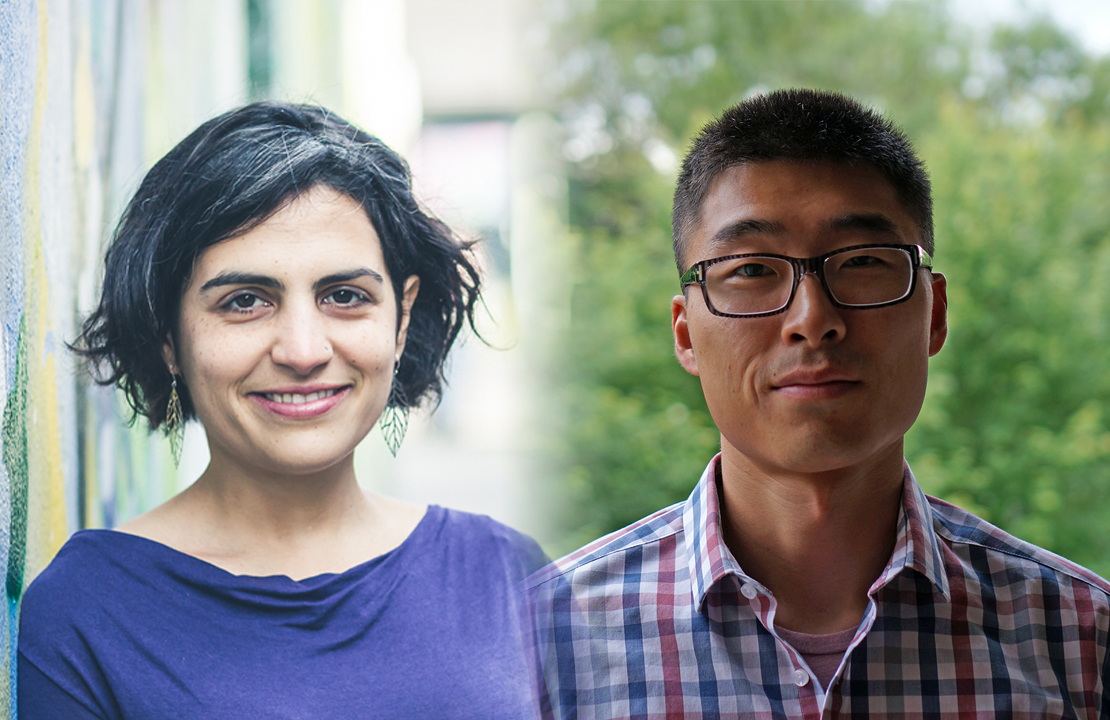 Dr. Samantha Green (left) and Dr. Edward Xie (right) Drs. Edward Xie and Samantha Green have been appointed as the University of Toronto Department of Family and Community Medicine (DFCM)'s first-ever Faculty Co-Leads in Climate Change and Health. This new role was created under the Global Health and Social Accountability portfolio in response to increasing calls for primary care providers to address the effects of climate change on the communities they serve in their clinical work, scholarship, and education.
The negative impact of climate change on health is well established, with decades of evidence pointing to how climate change may intensify existing health effects or how new ones may emerge. In fact, the World Health Organization (WHO) has identified climate change as the greatest threat to global health in the 21st century, as it directly impacts many social and environmental determinants of health such as clean air, safe drinking water, nutritious food supply, and safe shelter. As a result, the World Organization of Family Doctors, the WHO, and many other health organizations have called on health professionals to act on climate change by raising awareness and advocating for the development and implementation of a public health response.
Primary care providers are skilled at managing the determinants of health, which makes them well positioned to address the impacts of climate change on health, says Dr. Xie, an Assistant Professor at DFCM and family and emergency medicine doctor at University Health Network.
"We're an early and frequent point of contact for patients. With strong relationships throughout our patients' lives, primary care providers see how health intersects with past and ongoing inequalities. Primary care also bridges the public health and clinical spaces," says Dr. Xie.
Dr. Green, an Assistant Professor at DFCM and a family physician at Sumac Creek Health Centre at St. Michael's Hospital, agrees with Dr. Xie, and gives an example of how people's lives can be directly impacted by climate change every day: "In downtown Toronto, we often see that marginalized patients who may not be able to afford an air conditioning unit or work in an environment where they're more exposed to hot temperatures, will face the direct effects of increased heat waves and heat intensity due to climate change. But I think people don't necessarily make these links between climate change and health, so I think family doctors play an important role in educating the public around these health impacts."
Dr. Xie adds that the COVID-19 pandemic has further illuminated the relationship between the environment and health: "During the COVID-19 pandemic, we've witnessed the inter-relatedness of environmental, social, and economic systems. We've learned about how environmental degradation around the world can lead to new disease outbreaks, but also how our actions at home can contribute to environmental change and social change."
And it is these actions at home that Dr. Xie and Dr. Green hope to leverage to make progress at the community level.  In their new role, they hope to engage the DFCM community in an organized way that integrates social accountability for climate change and health with the unique and essential skills of primary care through education, advocacy, scholarship, and health system improvements.
The Faculty Co-Leads note that this a great opportunity to work with the brilliant and dedicated staff, faculty, and trainees at the DFCM who have the skills and energy that are needed to address a major challenge for the health care system and the wellness of people both locally and globally. They hope to work with experts and emerging leaders in this area that are already in the DFCM.
Over the course of their one-year term, the Faculty Co-Leads aim to convene a community of practice that can work together to take action, answer important questions, and make sustainable change. If you would like to contribute to achieving these goals with Dr. Xie and Dr. Green, please contact dfcm.climatechange@utoronto.ca with a brief introduction. They would be delighted to work with any faculty, residents, and staff members at DFCM who are interested in engaging in these issues.
If you are interested in reading about how climate change is important to health, here are some recent ideas about the topic: