DFCM faculty member Dr. Muna Al-Khaifi creates website to provide breast cancer survivorship resources for family doctors and patients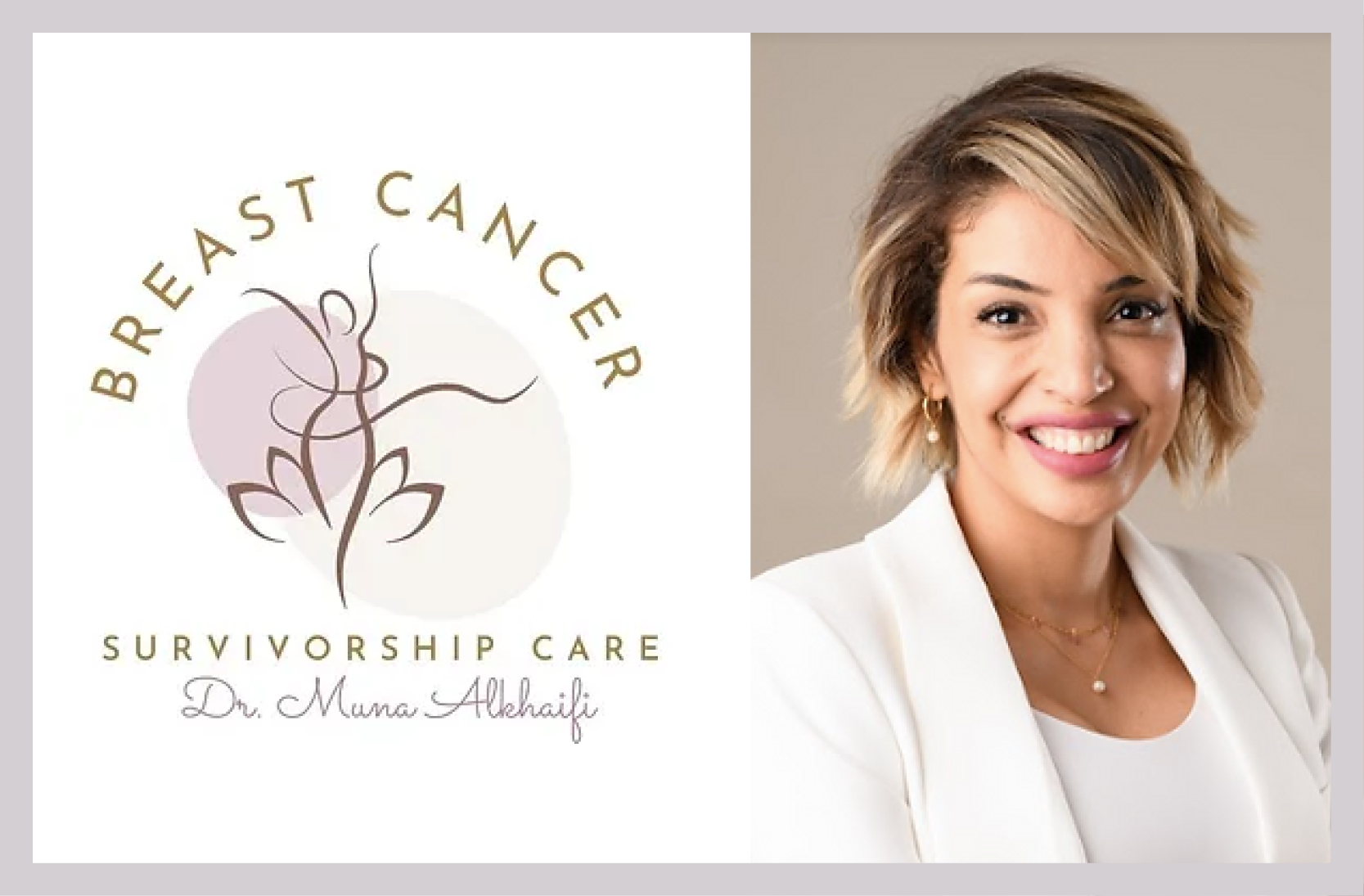 Every year in October, people around the world wear iconic pink ribbons and recognize Breast Cancer Awareness Month. At the University of Toronto's Department of Family & Community Medicine (DFCM), we are featuring the breast health work by Assistant Professor Dr. Muna Al-Khaifi.
Al-Khaifi is also the Physician Lead of the Breast Cancer Follow-Up and Survivorship Care Program at the Louise Temerty Breast Cancer Centre at Sunnybrook Health Sciences Centre. This is a newly created role Al-Khaifi, a family physician specializing in women's health and breast disease, proposed to the hospital.
"I'm an advocate of improving the holistic approach for breast cancer survivors," says Al-Khaifi. "I see the possibilities from a family doctor's eye, which sees the bigger picture. I know we can do an even better job to care for survivors."
Huge strides have been made in improving breast cancer detection and treatment, with the population of survivors increasing as they live longer lives. Among Canadian women, breast cancer is the most common cancer after non-melanoma skin cancers, and it is the second leading cause of death from cancer. One in eight women in Canada will develop breast cancer during their lives, or about 28,600 annually—and 90% survive, a high percentage that has risen through the years.
"As a result, stable breast cancer survivors have progressively shifted to the domain of primary care," says Al-Khaifi. Dedicated to serving this growing group, Al-Khaifi launched a new website in the spring called Breast Cancer Survivorship Care, a hub for survivors to get support in the form of evidence-based information, community forums and events, which include educational sessions, journalling and artistic activities. Primary care professionals can also use the site to help their patients.
"Overall, the website is a safe place for women to help them feel empowered and make positive changes in their lives," Al-Khaifi says, having received many grateful testimonials from patients.
Cancer survivorship education needed
At Al-Khaifi's practice at Sunnybrook, she provides about 16 breast cancer patients a day with holistic care after their active treatment. However, there is a lack of medical education in this type of care.
Although there's a lot of breast cancer research, it hasn't been translated or coordinated well into post-care in family medicine—despite many stable survivors preferring to receive care from their family doctor. There's a need to expand family medicine to include survivorship care—and our systems should adapt with the times, she says. "Family medicine residents and physicians should be prepared to address the challenging, unique issues survivors face."
"Many breast cancer survivors have told me while they felt they had a lot of information and support during their active treatment, once treatment stopped, there's a lack of support, a gap in the field," says Al-Khaifi. "Many experience symptoms afterwards that affect their quality of life, but receive less attention from health professionals."
Multifaceted issues
Patient wellness is much more than physical. "Even after a patient receives successful treatment and is cured, there are many parts of recovery to continue to address," says Al-Khaifi. "Mental and sexual aspects are not prioritized enough currently. But they are so important to a full and healthy life." With the increase of survivors, there has been a corresponding increase in health complications.
Traditional cancer recurrence monitoring has broadened to encompass overall wellness and recovery. "That includes management of physical and psychosocial side effects of cancer treatment, promotion of a healthy lifestyle, and care coordination of the various health professionals involved," says Al-Khaifi.
Physical issues survivors may face include cancer-related fatigue, chronic pain and lymphedema. Sexual dysfunction, often due to menopausal symptoms from treatments, is reported by more than 60% of breast cancer survivors. Psychological issues include depression, anxiety and fears around potential recurrence, reported by more than one-third of breast cancer survivors. These women also contend with negative emotions like shame and guilt, and body image issues.
"Post-treatment symptoms can be traumatizing. But we doctors can help by proactively screening for these issues and providing early interventions," says Al-Khaifi. "Many patients are not aware resources are available for each issue." Examples include specialized cancer programs for fatigue and brain fog, prosthetics and reconstructive surgery, therapies for sexual issues and support groups.
Patient-centred model
Survivorship care is an emerging field which Al-Khaifi is currently conducting research in—with significant patient involvement since some skills are hard to teach via traditional approaches. "I'm passionate about incorporating real patients as experts and partners in the medical curriculum," says Al-Khaifi. Previously, she coordinated a teaching session at a hospital that connects survivors with residents and is always looking for similar opportunities.
Evidence shows a patient-centred model can enhance physicians' understanding of patient perspectives and increase empathy and confidence. Family doctors especially benefit from deeply understanding patients to provide high-quality care to each person, says Al-Khaifi. 
"I believe our continuity and holistic care make us the best medical professionals for breast cancer survivors," Al-Khaifi says. "We know our patients so well. They are very comfortable with us—and that enables us to provide individualized care through the new post-cancer stage in their lives."
Visit the Breast Cancer Survivorship Care website to learn more and get resources. Attend the upcoming in-person session about breast cancer survivorship care at Family Medicine Forum in Toronto on Nov. 9, presented by Dr. Al-Khaifi.