Physician Assistant Program: 2022 end of year message
About DFCM, Faculty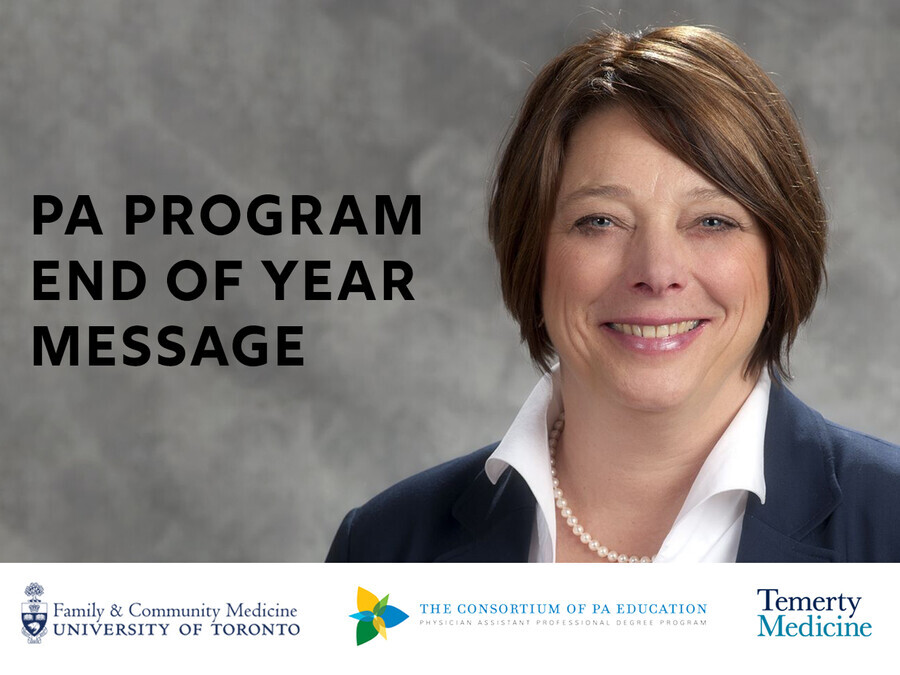 Dear Colleagues,
Once again, we have reached the end of another academic year for the Physician Assistant (PA) Program at U of T (BScPA degree), and I would like to take this opportunity to reflect on the events and highlights of 2021-22.
Globally, we are living through unprecedented times of health and social justice crises, and our health care system has never been more challenged. We have witnessed remarkable dedication and sacrifice from all of our health professions colleagues over the past two and a half years. It is clear that to sustain excellence in health care, we will need to create innovative, multi-faceted solutions to address our community health needs in the face of daunting health human resource  shortages.
Physician Assistants have been strong contributors throughout the COVID-19 pandemic and will continue to be a vital part of health care of the future.
The increasing need for PAs in all sectors of health care is mirrored by the increasing numbers of applicants seeking to become a PA. This past year, we saw the highest number of applicants in the history of our program, with over 1000 applicants competing for 30 seats. On May 20, the three Canadian PA Education programs introduced an inaugural national PA Offer Day, enabling candidates to make optimal choices for themselves when faced with multiple PA school offers.
On August 29, we welcomed our incoming class of 2024—an impressive group of individuals with diverse backgrounds and strengths.
Two weeks ago, our graduating class of 2022 successfully completed this intensive two-year program and are ready to launch their careers as Physician Assistants. There is no doubt that they will make significant contributions to the access and quality of care for their patients, their teams and the health care system in the years to come.
Our program is continually evolving and enhancing the educational experience for our students—this year is no exception.
Under the guidance of our Program Director Dr. Peter Tzakas and our Academic Coordinator Aurthi Muthukumaran, the year-one semester-two curriculum has been completely revamped, condensing course material and creating integration across courses. Our teaching faculty have been resilient and flexible in the face of pandemic demands and program changes. This year we welcomed four new PAs to our teaching faculty: our Pharmacology Course Director, Sonja Sajic (BScPA class of 2019), and three new ePBL assistants in Clinical Skills: Tanni Halder, Jimmy Misurka (both BScPA class of 2015) and Erin Unger, who holds a Masters in PA from Pittsburgh.
Our students were able to return to campus for in-person clinical skills and procedural training after two years of virtual innovation led by our Clinical Skills Course Director, Jeff Straw, and our clinical simulation was redesigned to include "informal" curriculum scenarios that commonly occur in clinical settings. The Longitudinal Clinical Experience course resumed in-person placements in January for our first-year students, providing an important introduction to the clinical setting.
We were delighted to recognize the following faculty at the Temerty Faculty of Medicine Education Achievement Awards for their excellent contributions this past year:
Excellence in Teaching – Kevin Zhang, Course Assistant, Physiology (since 2019)
PA Role Model – Dee Naidu, Course Director – DTP 1 & 2
Rising Star – Sara Pytka-Jones, PA alumni, class of 2017, Preceptor, Mentor
On a national level, Zlata Janicijevic, Course Director, LCE, was awarded 2021 Educator of the Year Award from Physician Assistants for Research, Scholarship & Education in Canada (PARSEC) / Canadian Association of Physician Assistants (CAPA).
A number of our faculty contributed to scholarly endeavours over the past year at international, national and local educational events, including:
Peter Tzakas and Sharona Kanofsky: Virtual OSCE for the Pandemic and Beyond, PAEA Education Forum
Abbas Ghavam-Rassoul, Britton Sprules and Sharona Kanofsky: Academic Development for PAs: Masters of the Universe, 2021 CAPA Annual Conference
Leslie Nickell, Kristen Burrows, Ian Jones and Ashley Millham: NCP 2021 Canadian EPA-PA Competency Framework: Entrustable Professional Activities for Canadian PAs, 2021 CAPA Annual Conference
Britton Sprules and Leslie Nickell: Extend Your Practice & Your Wellness with a Physician Assistant,

Northern Constellations 2022 conference, NOSM

University

Peter Tzakas and Sharona Kanofsky: 'To V or not to V? Moving from In-person to Virtual Examination of Clinical Performance for PA Learners', 2022 University of Toronto Teaching & Learning Symposium
Sharona Kanofsky: PAs in Canada, PAs for Global Health 2022
This year, we introduced the Alumni Corner on our program website. With a total of 293 U of T BScPA alumni, our PA network is growing and their continued engagement is vital. Involving our alumni in program planning and curriculum delivery will make us stronger, and in turn, we can offer resources to support their ongoing professional development.
In preparation for our program's upcoming accreditation in April 2023, we seconded Nicole Reyes from DFCM to our PA team as the Accreditation Coordinator. We look forward to sharing our program development and accomplishments through the accreditation process and seek new opportunities for continued improvements.
As always, the success of our PA program rests on our dedicated faculty and staff. A big thank you to Melissa Rodway, our Senior Program Coordinator and her team who skillfully support our faculty and students throughout the year.
As this academic year has drawn to a close, our program is also undergoing a leadership change. I completed my role as Medical Director on August 31, 2022. To serve in this role for the past four years has truly been a pleasure and a privilege. I have been so grateful to work with such dedicated and skilled colleagues and staff. I am continually impressed by the commitment and enthusiasm of our students, and I am very excited for the future of Physician Assistants in Canadian health care. Throughout my time in this position, I have been supported and learned from so many—our home department DFCM, Dr. Kristen Burrows (Assistant Dean of the McMaster PA Education Program), CAPA, all of our HP programs at U of T, the Temerty Faculty of Medicine, our Consortium partners NOSM University and the Michener Institute of Education at UHN, and many more.
Our PA program may currently be small in size, but its heart is mighty—the PA program and the PA community at large give me hope for the future of health care.
While this is titled ""End of Year Message," we have much to look forward to at the start of the 2022-23 academic year. We are delighted to welcome Dr. Jeff Golisky, the incoming Director of the PA Program. He brings a strong understanding and commitment to the PA profession, and he will continue to lead our PA Program to be the best it can be.
Many thanks to you all,
Leslie Nickell, MSW, MD, CCFP
BScPA Program Advisor
Temerty Faculty of Medicine
Associate Professor, DFCM
University of Toronto
The Bachelor of Science Physician Assistant degree (BScPA) is a full-time professional, second-entry undergraduate degree program, based in the Department of Family and Community Medicine in the Temerty Faculty of Medicine at the University of Toronto. Learn more: https://www.paconsortium.ca