Inaugural appointments in DFCM's Office of Health System Partnership
About DFCM, Faculty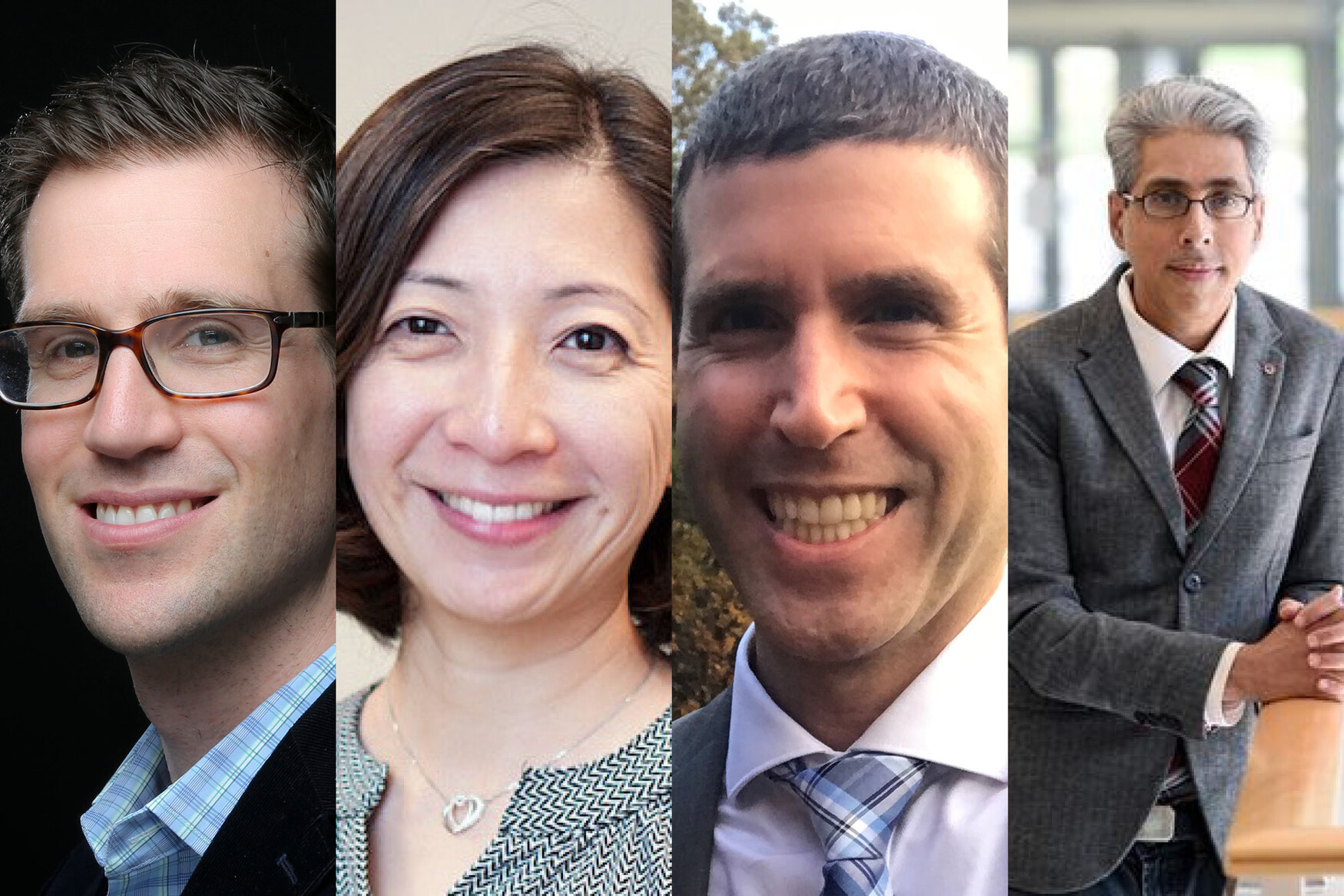 It is our great pleasure to announce the inaugural appointments within DFCM's Office of Health System Partnership.
Dr. Noah Ivers is the Scientific Lead, a role that will ensure data supports are in place for evidence-informed decision-making, and coordinate the input of DFCM scientists into work done through our partnership with Ontario Health-Toronto Region.  
Dr. Catherine Yu is the Engagement Lead, a role that will support a coordinated approach to Ontario Health Teams primary care leadership. 
Dr. Ryan Banach is the Family Medicine Health Human Resources Lead, a role that will guide the development, implementation, refinement and evaluation of supports needed to help family doctors enter and stay in office-based practice in the Toronto region. 
Dr. Avnish Mehta is the Attachment Lead, a role that will advance the priority area of increasing attachment to primary care across the Toronto region.
Dr. Noah Ivers
Dr. Ivers is an Associate Professor at DFCM and the Institute of Health Policy, Management and Evaluation at U of T. He is a family physician at Women's College Hospital, scientist at Women's College Research Institute, and innovation fellow at the Women's College Institute for Health System Solutions. He holds the Canada Research Chair in Implementation of Evidence-Based Practice. His research focuses on the use of data to drive evidence-based, patient-centred improvements in health care. He has conducted multiple pragmatic randomized trials, systematic reviews, and qualitative work on health services and quality improvement interventions. 
Dr. Catherine Yu
Dr. Yu is an Assistant Professor at DFCM and a community and family physician. She is Medical Director of Health Access Thorncliffe Park. An emergency physician for more than 10 years, she is now a passionate advocate for her community patients. In 2019, she received the Ontario College of Family Physicians Award of Excellence for her leadership in supporting vulnerable populations. Dr. Yu is also Chair of the Board of Directors for the East Toronto Family Practice Network, a community of family physicians with a mission to create equitable access to inter-professional care for all family practices.  
Dr. Ryan Banach
Dr. Banach has been practicing comprehensive office-based family medicine in the Jane and Finch neighbourhood of Toronto for 11 years—an experience that has given him insight into the inequality of care patients receive across different neighbourhoods in Toronto. He is an adjunct clinical lecturer at DFCM who has taught both medical students and residents. Dr. Banach is passionate about practice management and frequently delivers presentations to physicians to help them understand better the business side of medicine. He also presents seminars on billing, office efficiency, and career management to Ontario family physicians.
Dr. Avnish Mehta
Dr. Mehta has had a broad range of practice including in-patient and out-patient, and academic and non-academic. He has had family practices in Ottawa and Toronto. He worked as a hospitalist at Toronto Rehabilitation Centre, Ottawa Heart Institute and Rouge Valley Health System. He also has experience working as a coroner in Ottawa. Dr. Mehta is currently a family physician in Scarborough and is the Medical Lead at the Scarborough Centre for Healthy Communities. He is also Chief of Family Medicine at the Scarborough Health Network.
We are thrilled to welcome our colleagues to the Office of Health System Partnership, which brings our expertise in academic family medicine and primary care to serve the needs of the health system. We are confident they will build a strong bridge between the university and the health system, which needs primary care leadership and scholarly support now more than ever. Please join us in congratulating them on their new roles.